Stage 5: Engage, Expand, be active
Goal: to activate and engage the stakeholders, to communicate with the (wider) community.
How do we activate the stakeholders? How do we attract attention and communicate/share the vision of the community? How do we make it exciting & inspiring?
ideas and experiences from our experts!
Heritage Community Development Toolkit
How can you help develop common place/asset-based narratives
A large part of cultural heritage is accessible only through its local community. Therefore, the recurring theme, presented in the orientative narrative (see stage 3) is the interpretative basis for the construction of place-based stories – by this community – relating to a variety of socio-cultural sectors & actions. These stories can take all forms from 'simple' oral storytelling to media and/or artistic expressions and socio-cultural events.
It is also the theme and approach for all communication with the 'external world': people from other territories & cultures. It is the creation of interpretative media about a community for other communities. They can take the form of Open Days, cultural events, art projects, public gardens, World Café, storytelling, story trails, hero stories, heritage walks and etc.
Monteleone di Puglia (IT)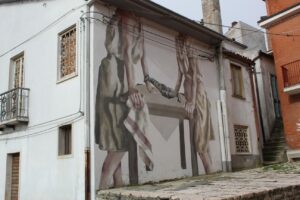 Monteleone di Puglia is a small village in the centre of the Italian Mezzogiorno. The village was economically depending on a traditional primary activity and suffered from substantial depopulation, significant ageing of the population and lack of public services.
In an attempt to change that situation, the local authorities, in cooperation with a team from the University of Salento, started a 'rebranding' process, based on the Placetelling® technique (2015 – 2019). A re-reading of the local history surfaced an historical event: "The Rebellion" (23rd August 1942) about a revolt of the local community against the fascist regime. 180 citizens were arrested and imprisoned. It was the start of many similar revolts of people and villages against the Mussolini regime.
This story was re-interpreted to todays' situation and gave birth to the narrative of Monteleone as a village of acceptance, as a place and community of peace and non-violence. This narrative was the leitmotiv of a series of events and activities leading to a transformation of the village and its image to the external world:
The transformation of the War Memorial Monument into a monument of peace: "La Guerra e' Follia".
The opening of a reception centre for adult refugees and a second one for teenage refugees.
During several years immigrant artists were invited and commissioned to create big mural paintings and graffiti art on the themes of democracy, immigration, peace.
The village received the International Peace and Non-violence Award.
All this gave the village a new identity, a distinguished look and new energy for further work with a clear message.
Posible Activities
apply storytelling techniques to invite people to tell about their relationship with local heritage.

collect stories that are relevant for the community and the heritage.

offer the community a variety of appropriate media for conveying/presenting a place-based story.

apply storytelling techniques to help articulate/reveal common meanings and connections with the place/heritage.

advocate for communities concerning the values they have for a heritage to a diverse range of audiences.

help develop a well-structured narrative based on story material offered by people. 
choose and apply various ways of inspiring, committing, activating, and empowering people in various settings and contexts.
assist communities in uncovering heritage in their own places. 

identify aspects of a heritage asset that may be considered as promising.

make an inventory or network analysis of all relevant stakeholders.

identify the potential benefits, incentives, challenges a heritage asset may offer to the network.

develop a plan for reaching people, raise an interest, involve, and empower them in heritage community building.

develop a viable plan for the development and exploitation.

make it active & creative with: Open Days, events, art projects, garden, World Café, storytelling, story trails, hero stories, place telling, heritage walks …

evaluate progress

challenge stakeholders to develop ideas, organise design thinking meetings.

develop scenarios including budget plans. Discuss viability and risks. 

provide examples of multiple views of heritage in the work with communities.

assist heritage communities in discussing multiple views of the past

involve a diverse range of communities in co-creating interpretation of heritage.

assist communities in critically assessing the credibility of sources and in discerning evidence-based facts from presumptions and fiction.
Reflection:
HM has both designated and public/open areas and interactive elements for different forms of community engagement. How have you utilised your heritage site for community engagement?
Involving community member in the operation the HM through volunteering is part of the engagement strategy. What are the key elements of your engagement strategy/tactics? What are the challenges and opportunities you foresee in recruiting and/or engaging volunteers in your community?
Tell me a place


placetelling theory and practice 
outreach, involvement, empowerment and learning

presentation on how to engage and empower community
Storytelling for heritage

apply storytelling for heritage community development
To help develop common place/asset-based narratives
To (inter)connect, inspire, commit, activate, and empower people.
To facilitate participatory governance and share responsibilities 
To moderate brainstorming, decision making, co-operating processes in the community
To create ideas and opportunities, to manage resources, to make things happen (intrapreneurship)
To establish (digital/on-line and real life) communication, meeting and cooperation structures and processes
Competence Development Pathway
PPS focuses on building the capacity of heritage communities as a socio-cultural space for creativity, learning, participation & inclusion. Each stage of heritage community development involves either field, organisational or social competences.
We have developed the "PPS Competences & Knowledge-Skills-Attitudes (KSA) reference systems" that will assist you to develop the relevant competence to this stage.